The Gold Standard
for Your Health
Social distance in luxury at our boutique resort and secluded beach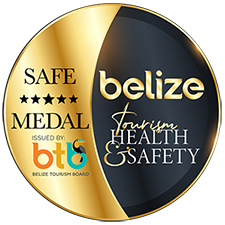 Belize, in conjunction with other Caribbean destinations, has created a set of protocols for all-inclusive resorts to follow that are designed to protect our guests and our teams. These measures include enhanced cleaning and sanitation procedures, layouts to aid in social distancing, and touchless technologies. We've worked hard here at Beaches and Dreams to implement each of these protocols so as to ensure you can experience the fullness of Belize safely.
With only 11 rooms on the very end of the resort district here in Hopkins, we've always offered our guests a secluded and individualized experience. Because we conduct most of our own tours and have worked with our partners on their Gold Standard certification, we're able to offer our full catalog of adventures. Our open-air, oceanfront restaurant, the Barracuda also ensures our guests will continue to experience the fine dining we're famous for. We even offer your return trip Covid test to be taken right here at the resort.
Travel Made Safe and Easy
As of March 1, 2022, fully vaccinated travelers must show proof of vaccination; a negative test is no longer required for fully vaccinated travelers. Travelers that are unable to show proof of vaccination are required to present a negative Covid-19 PCR test taken within 96 hours of travel or a Covid-19 Antigen Rapid test within 48 hours of travel. If necessary, a Covid-19 test will be administered at the airport for a fee of $50USD per passenger. Belize has had rave reviews about the speed and efficiency of our testing procedures upon arrival, and you can see the travel process first hand as documented by our local newspaper owner upon his return. Once here in Belize, we'll handle everything just like always, including your transport to and from the airport, your meals, and your tours.
In short, Belize is open, we're open, and we're ready to show you the combination of ecosystems, cultures, and food that only Belize can provide. Please send us a custom vacation request, and we'll be happy to answer any of your questions!
Beaches and Dreams was ah-mazing!! My husband and I chose Belize for our honeymoon and we were more than pleased with the resort we... read moreBeaches and Dreams was ah-mazing!! My husband and I chose Belize for our honeymoon and we were more than pleased with the resort we chose!! The excursions available were great!! We saw so much...the crocodile night tour with the bioluminescence was out of this world!! It was an experience like no other and one that we would highly recommend!! The Mayan ruins, Xunantunich, were incredible. And every tour guide was full of so much knowledge! We really learned so much about Belize, the culture, and their history!! Of course, fishing and snorkeling are a must do when in such a beautifully tropical place!!! Our guides, Jeremy and Steve, knew all the great spots to stop which allowed us to see such a wide variety of sea life while snorkeling!!

We stayed in a cabana suite which was perfect. Going to sleep with the sea breeze while listening to the sounds of the tropical birds was perfection!

The food was so well prepared and absolutely delicious!!

And of course we can't forget to mention how friendly and wonderful the staff was!!! Francine, Birdman, Milky, Armando, Caesar...I'm sure I'm forgetting some and I apologize but you guys were awesome!!

The memories we made will last for forever and we cannot wait to make a return trip to see more of this beautiful country!! - Jewell