The Gold Standard
for Your Health
Social distance in luxury at our boutique resort and secluded beach
Entry Requirements & Protocols for Entering Belize:
As of July 2022, Belize no longer requires a negative Covid test, COVID 19 immunization, or mandatory travel health insurance.
Book your stay in Belize at an approved Gold Standard hotel or accommodation and present confirmation at immigration.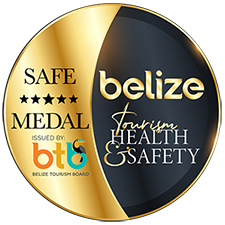 Belize, in conjunction with other Caribbean destinations, has created a set of protocols for all-inclusive resorts to follow that are designed to protect our guests and our teams. These measures include enhanced cleaning and sanitation procedures, layouts to aid in social distancing, and touchless technologies. We've worked hard here at Beaches and Dreams to implement each of these protocols so as to ensure you can experience the fullness of Belize safely.
With only 11 rooms on the very end of the resort district here in Hopkins, we've always offered our guests a secluded and individualized experience. Because we conduct most of our own tours and have worked with our partners on their Gold Standard certification, we're able to offer our full catalog of adventures. Our open-air, oceanfront restaurant, the Barracuda also ensures our guests will continue to experience the fine dining we're famous for. We even offer your return trip Covid test to be taken right here at the resort.

First time in Belize, and it won't be my last, best vaca ever! Even with some Covid related restrictions and curfews, I couldn't have asked... read moreFirst time in Belize, and it won't be my last, best vaca ever! Even with some Covid related restrictions and curfews, I couldn't have asked for a better time! The all inclusive was amazing (food at the resort was delicious)!! The adventures were super cool, some of my favorites were the cave tubing, zip lining, and snorkeling but I hope to try the ATM tour next time! On our off day, we got to experience the village and meet local people, who are all extremely welcoming and friendly! The people are truly what made this trip so memorable! The staff at the resort are ones I won't ever forget! From Armando, Oz, Miss P, Milky, and Ben to name a few! They all made sure connections were established and you felt like family from the moment you stepped on the resort! The post travel blues are in full affect after this trip and I look forward to coming back! - gracymowers