Getting to Beaches and Dreams
Learn about traveling to Belizes's best all-inclusive resort on the closest beach to reef, jungle, and Maya adventures.
YOUR INTERNATIONAL FLIGHT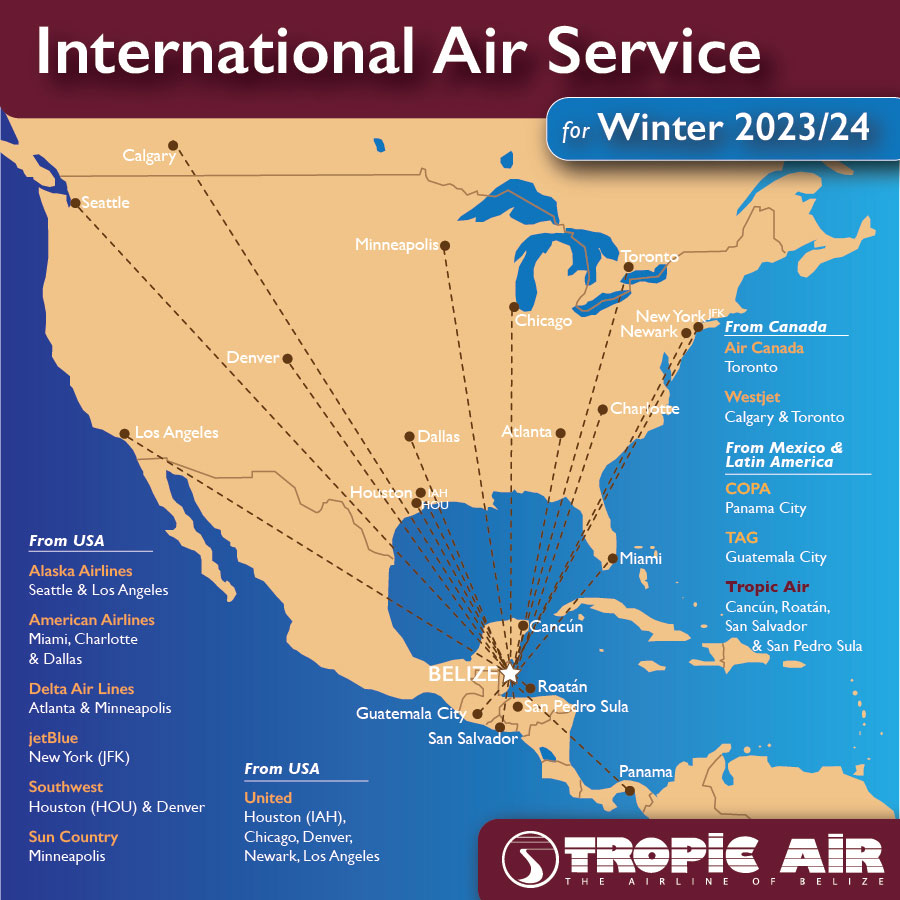 We'll handle everything once you arrive at  Philip S.W. Goldson International Airport (BZE), but you'll need to book your international flights.  Here are a few helpful hints:
As you can see from our map, you can get direct flights to Belize from 19 cities and 7 countries.
Many direct flights are only on Fridays or Saturdays, so be sure to check with your airline.
Expedia.com is a great way to check all the airlines at once, but SouthWest Airlines often has deals, and you'll need to use their website directly.
Our jungle plane to the resort leaves every hour, but you'll want to arrive by 3:30pm to clear customs in time to catch our last flight.
If you've let us arrange your air transport from Belize city, get ready for some fun! Once you exit customs with your bags, you'll see the Tropic Air checkin desk. Just walk up, tell them your name and that you're with Beaches and Dream and you'll be treated like royalty! They'll take your bags and direct you to the local terminal where you'll get on the next available jungle plane (they leave hourly). The flight is approximately 20 minutes. When you arrive at our local air strip, one of our drivers will be there to escort you to the resort.
If we've arranged this for you, one of our drivers will greet you with a sign with your name on it as soon as you've collected your bags and exit customs. He'll take it from there and drive you the 2.5 hours from Belize City to the resort!
We hope that you've allowed us to arrange transport here for you because driving a car here in Belize is expensive and not particularly fun (please just let us know if you'd like us to arrange transport for you by writing Ryan at ryan@beachesanddreams.com)! The good news however, is that there are only a few roads in Belize. The road to Hopkins is just off of the Southern Highway, 14 miles south of the Hummingbird Highway. Once you get to Hopkins Village, just head south on the dirt road (that's currently getting paved) for about 2.5 miles and you're home!
I have so many good things to say about our honeymoon with Beaches and Dreams. For starters, the village of Hopkins in Belize was an... read moreI have so many good things to say about our honeymoon with Beaches and Dreams. For starters, the village of Hopkins in Belize was an incredibly kind and low-key community. It was safe and full of things to do, as well as great traditional food to try out. The staff at Beaches and Dreams was amazing. Everyone was extremely kind, helpful and personable. Being able to customize adventure tours with beaches and dreams was also a huge highlight for us. It's a smaller resort, which made our beach area much more peaceful and private, in my opinion. The staff all knew us by name. The drinks were great, and the food at their restaurant was some of the best food we had in Belize. I would definitely return to Hopkins and stay again at Beaches and Dreams. I highly recommend this resort! - Becky