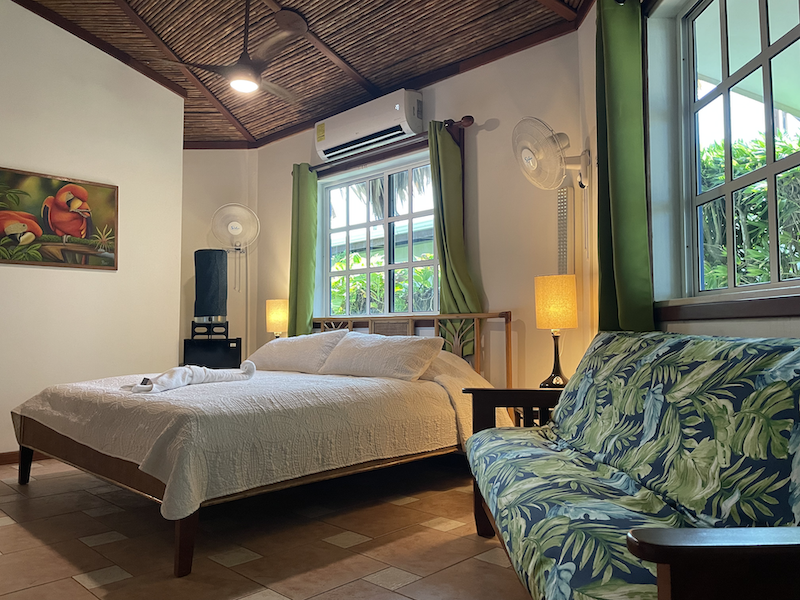 This is a pretty exciting post. When Ryan and I moved here 6 years ago, we had bought this hotel with 11 rooms. Six of the rooms had A/C and 5 did not. We talked about one day installing A/C in the cabanas and treehouse rooms. But, as things happen, other priorities came up. I remember the very first thing we spent money on at Beaches and Dreams, month number 1, was brand new linens for all the rooms. And then, within 6 months of buying Beaches and Dreams we needed to replace all 3 of our tour vehicles (a truck, an SUV and a tour van). Stuff was worn out! The non A/C rooms were just fine and were cooled by the ocean breeze. Not the priority.
After our first tourist season, we invested in the hotel by renovating all the rooms. This meant painting all the interior walls, buying new curtains, bedspreads, lamps, futons, etc.
And then Covid happened and our business was in a stand still for many months.
But here we are, with Covid behind us and this year's high season winding down. We are once again investing in the hotel, but this year the A/Cs have risen to the top of the priority list! We also happen to have a fantastic contractor who was available to install all new windows to keep that new cool air inside where it belongs. So the time finally came.
Our reservations team is excited because now, you don't need to choose between room types based on A/C. Our guests can just choose the intimacy of a cabana or the extra sleeping room of our hotel rooms based on what you and your family needs — not based on whether you need it icy cold to sleep at night.
I also thing the new windows look beautiful….