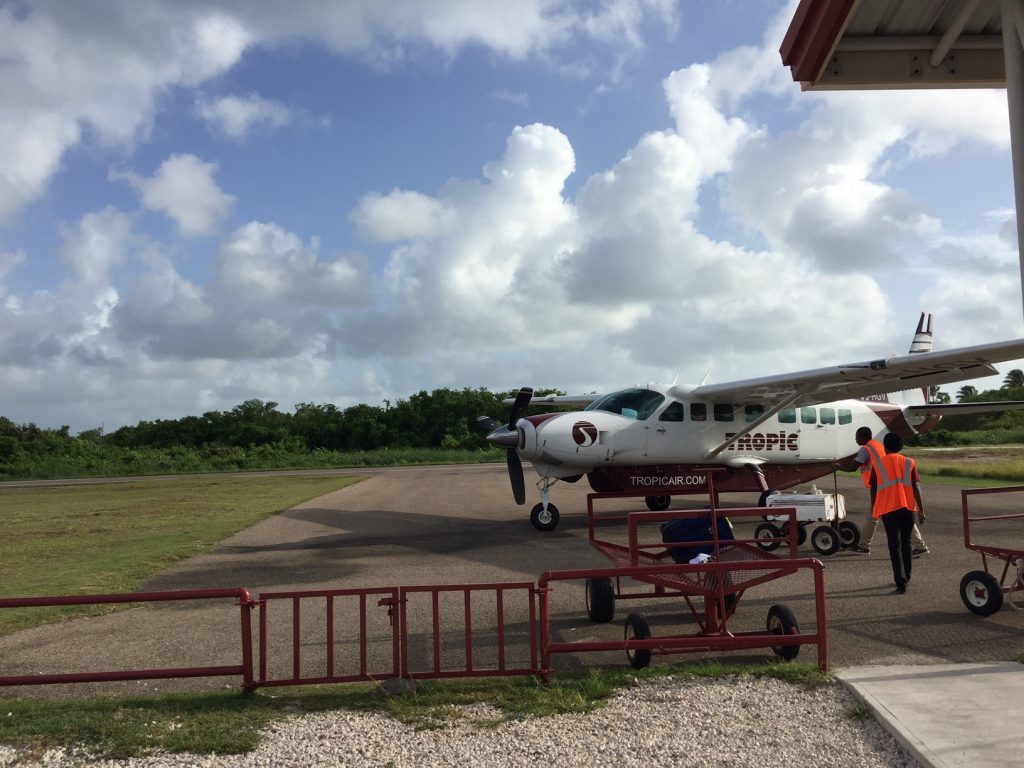 After our marathon two days of closing, we also needed to take a trip to Belize City to transfer the titles of the resort boats. It takes about 2.5 hours to drive to Belize City so the fastest way to go is to take a little prop plane on a 15 minute flight from Dangriga. Once again, the outgoing owners, Tony and Angela, as well as Ryan and myself needed to all be in attendance so we could sign the proper paperwork. We left Fay and Rex with the current managers of Beaches and Dreams, Byron and Ratka. We'd been getting to know them more and more for a week now, so the kids were comfortable staying with them. Our lawyer, Steve, has his office in Belize City, so he planned to pick us up at the airport. We took an early flight and booked a later afternoon return so we could get everything done and maybe have time for other errands or shopping.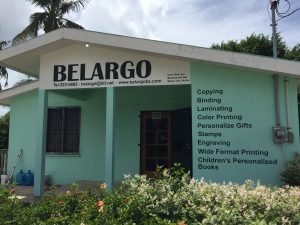 The morning flew by as we gathered paperwork at Steve's office and picked up our new stamp (required for all official business). When we were finally heading to the boat authority Angela pointed out that it was nearing 11am and we might loose our window of opportunity if we get too close to the lunch hour. At noon or so the office would close down and the workers would go to lunch for 1 or 1.5 hours. We made it by 11am and were all done with paperwork and question answering by noon, but we were missing one key piece of paperwork. We did not have a utility bill in the name of the company receiving the boat title. We would have to put the transfer on hold for now.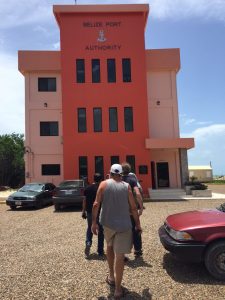 Belize City is a much larger town than Hopkins, having a population of about 60,000 compared to 3,000. This is the place you go for a large hospital, or a good sized furniture store or home goods store. When I looked up the nearest movie theater in Belize (nearest from Hopkins), I saw one in Belize city and one in San Pedro. Belize City also has some good restaurants. We went to a restaurant on the water that served a lot of Belizean dishes. I had a shrimp stew of sorts. The restaurant was right on the water and next to a giant slide and water recreation area.
After lunch we were running out of time to run extra errands. We wanted to get a local cell service provider so we can have local numbers (and a data plan!). Using our US numbers kept us tethered to the hotel wifi in order to use any apps or messaging. And we wanted to look at beds for Rex. Once we move into the owner's apartment, we will need a second kids bed for Rex. We managed to stop by a furniture store, but they were all out of single sized beds!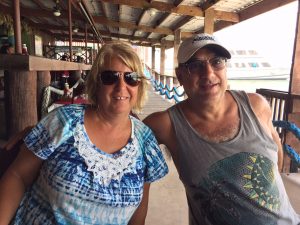 We said our goodbyes to Tony and Angela and headed to the airport with Steve. I'm sure this was a big moment for Tony and Angela. After building Beaches and Dreams for 12 years, from an almost unusable guesthouse to a highly respected and successful hotel, restaurant and tour business, they were leaving it in OUR hands. It was a big moment for us too, but I could still feel the safety net of the current staff and managers waiting to help us out as we returned to the resort.
Still, we both felt the urgency to learn all we can before the remaining three weeks of transition are done.