For the first week that we are in Hopkins we will be staying in our new hotel as guests. Then we will be in a nearby rental apartment for 3 weeks. Around Sept 6th, we will move into the owners apartment above the restaurant. The delay is because he current managers live in the owners apartment and will continue to live there during a month long transition period after closing. We will close on the resort about 3 days after arriving in Hopkins.
On our first day it was rainy in the morning so we took it easy in the hotel and played some cards. Rex received a new game "Set" for his birthday that we had yet to play. So we spent the morning learning and playing (thanks Sarah and Henry :). To kill the heat, I offered to buy the kids a soda. The selection was a couple flavors of Fanta and I suggested orange (yum!) Apparently the kids have never had orange soda because they were super reluctant. I persevered and bought ONE to share between the three of us. Now they are officially hooked, and you may be seeing orange Fanta in any and all pictures where the kids are at a restaurant.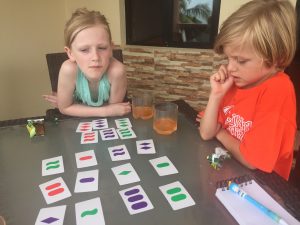 Ryan and I have been to Beaches and Dreams once before so we have explored the town a bit and some of the tours. But the kids have never been here. So in the afternoon of our first day we explored the town together. Beaches and Dreams is situated south of the town of Hopkins by about a mile and a half. Over the past 10 years or so a small resort area has been building up to the point where it almost feels like two different towns. In a nutshell, the locals live in town and the ex-pats live south of town (with some exceptions). I think this resort area is know as Sittee Point.
The resort has bikes available and usually we would bike into town, but I suggested walking as it was the first time to really see everything. It ended up feeling like a very long hot stroll. In hindsight, biking was the better way to go. Our goal was to get some lunch and just explore. We found a great lunch spot in town called "Thongs" and while we were eating, a funeral procession passed by. It seemed almost the entire town was in attendance. After a long procession of cars behind the coffin, there were also two school busses full of people.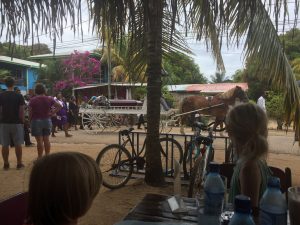 Hot and tired, after lunch we decided to head back making sure to visit the library. Hopkins has a volunteer run library which looks small from the outside but really packs the books in. Both kids were able to get a library card for free which allows them one book out at a time. Plenty of books to choose from for both kids and a surprisingly good selection of recent books for adults as well. I failed to take a picture of the library :/ But its worth showing, I'll get it next time.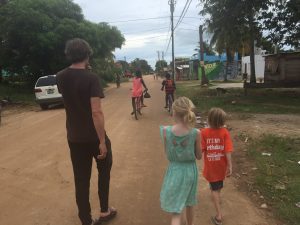 After the library, we hit the grocery store for some snacks and to see what is even available at the small local grocery. The store has about 6 aisles full of snacks, coffee, cooking oils, PB, bread…lots of good basics. It also has some hardware and toiletries as well as wine. The kids picked up a bag of Doritos, I got PB, bread and wine for the hotel room. basics!
While walking back to the hotel we were offered a lift by a very kind stranger. It seems to be the Hopkins way of things — offering rides to people walking a long road. We were ready to rest so we hopped in the back of her truck!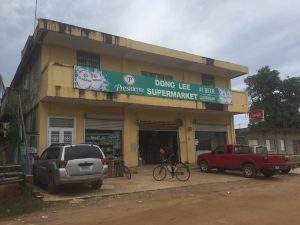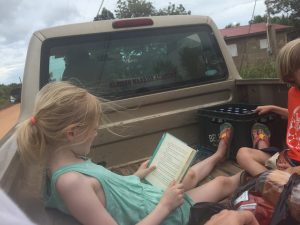 On Tuesday the current manager, Byron, offered us a snorkel trip as a family. We pretty much jumped at that. The kids are still just doggie paddle swimmers, but they were able to use life vests and of course, you feel super buoyant in ocean water. We took a boat ride about 30-40 out from our beach. Passing by a chain of islands to get to the reef. Our boat captain, Steve, is a great diver and was so great with the kids. Fay and Rex got a nice lesson in shallow water along the shore of one island and then we headed out to deeper water. It was SO much fun to see the kids enjoying the snorkeling. Fay was a bit uncomfortable with the gear but it seemed like the excitement of seeing all the plants and fish allowed her to forget most of it. Rex was super confident and excited and did not seem to have any trouble! We saw coral, stingrays, lots of cool plants and fish. it was really beautiful and fun.