I haven't written a post in so long and I going to blame it on the resort finally being busy. That and the new coffee shop.
Low Season vs High Season
When we arrived in August it was the low season and it was also hurricane season and the rainy season. We had a healthy amount of bookings through August, but September and October were dead in terms of bookings. It picked up a bit in November but did not really get cooking until Christmas. We've been told this is a VERY late start to the busy season; typically it starts end of November.
Of course this was a good way to start for us. We had time to get to know the business, to settle in at school and in our new home and to make a few changes before a big rush of guests.
The changes: Barracuda Breakfast, Sea Bar and Parasailing
In October we relaunched our breakfast menu and in November we opened an afternoon beach bar called The Sea Bar. Before we took ownership, our restaurant only served breakfast and dinner. Breakfast had a limited menu from 7am-9am and served as a way to feed our guests before heading out on their tours. Dinner was available from 5-9. If you wanted lunch, you could ask for something to be pre-made (like a sandwich) during the breakfast shift, but the kitchen was closed mid day. We wanted to expand/improve the menu for Breakfast and lengthen the hours of operation to 7-11am. Our guests really seem to like it and we've also had some nice feedback from walk-ins. I had a lot of fun designing the menu with our breakfast manager in terms of food and I borrowed the print design from a favorite NYC restaurant.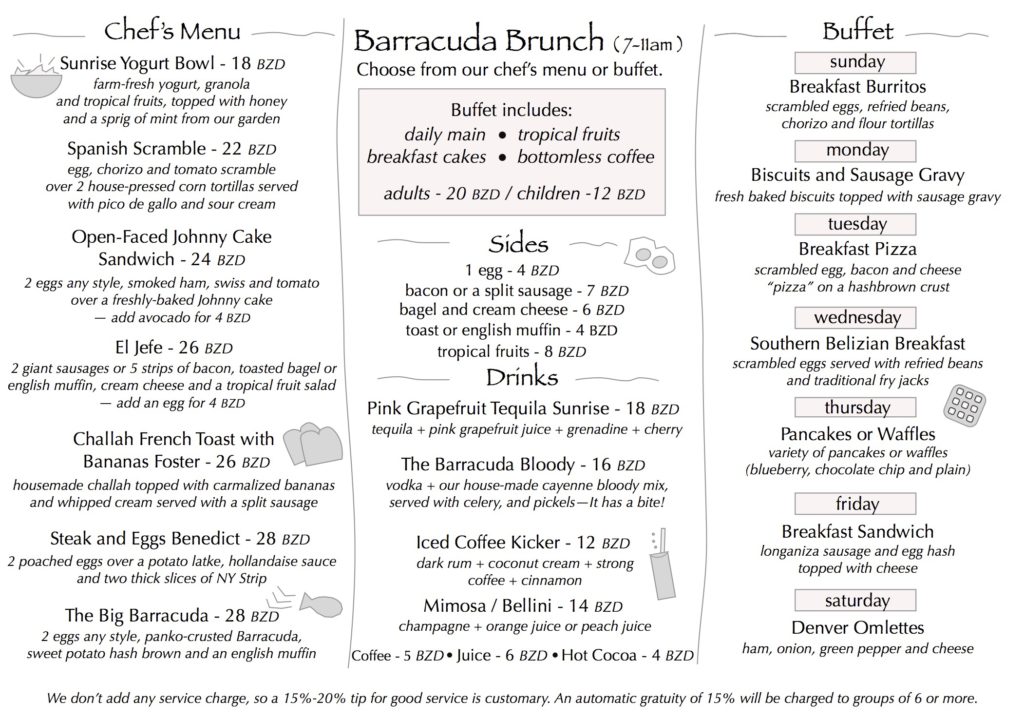 The menu change went very smoothly kitchen-wise and because we were doing more complicated breakfasts orders we also hired an additional breakfast chef. The morning shift has A LOT going on in that kitchen. They are up early making pastries, tour lunches, and a beautiful breakfast buffet. If we have an early tour, the buffet has to be out 30 minutes prior to departure, which can be as early as 6am.
In November, we launched the Sea Bar. Ryan and I wanted an easy option for lunch in case our guests were relaxing at the resort instead of going out on tours. We decided on a menu of pizza and kababs. Fay and Rex were over the moon about the possibility of pizza at our restaurant. So in preparation, we went through weeks of finding the right dough recipe and baking techniques to make a really good pizza. The Sea Bar is located just in front of our restaurant seating, on the beach with picnic tables. We also inherited a meat smoker which is fixed to that spot and a serving area that used to be used for a Wednesday night smoked pig, "New Orleans" buffet. We converted the buffet serving area into a bar (added a sink and second counter), and we use the smoker as a pizza oven. We hired a couple guys dedicated to pizza making and an amazing bar tender who seems to know everybody.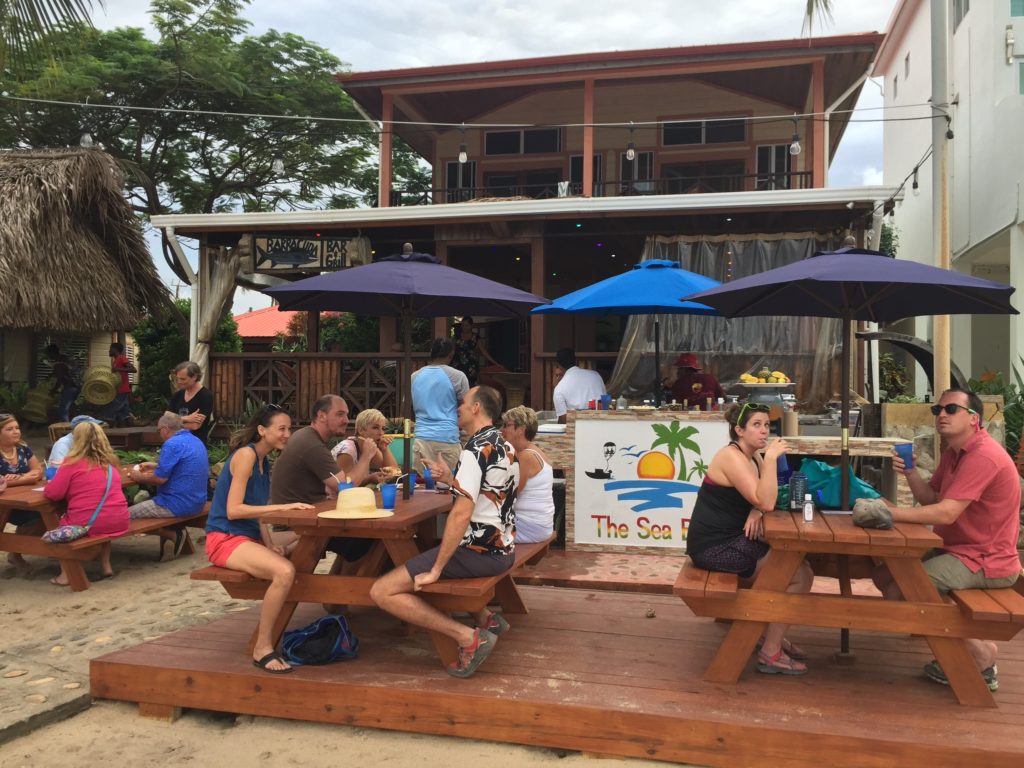 The Sea Bar was also meant to help promote our new Parasailing business. The previous owner of Beaches and Dreams had plans to start a parasailing business. When we took over, the boat was 1/2 way built. Ryan oversaw the finishing of the boat, and hiring a parasailing captain from San Pedro. We would be the first parasailing business in this area.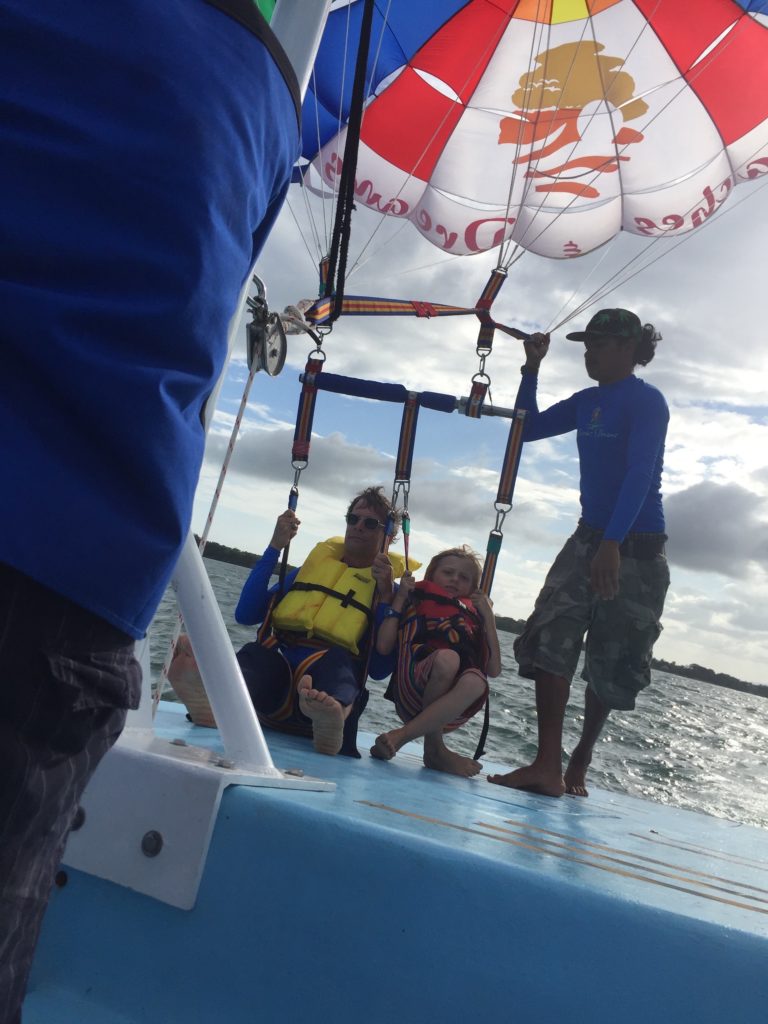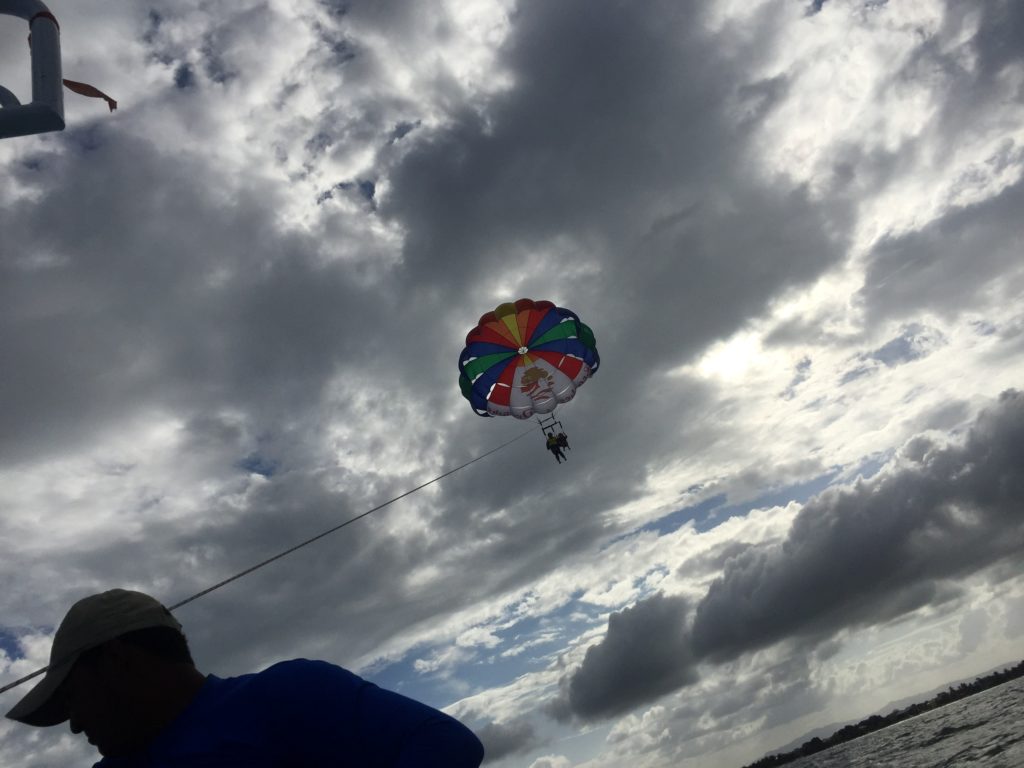 Marketing
In Hopkins, the restaurants and bars tend to run specials on certain days of the week to attract a nice size crowd. Some restaurants close for part of the week to give themselves a break from working all the time. You'll notice that there is a nice balance between which bars are open with "event" nights and which are closed so that the different bar events do not compete too much with one another for the small amount of patrons we have here. We decided to throw a weekly Friday afternoon/night party for the Sea Bar, to fill our seats. Ryan called it "Feelin Friday". The event would be local live drumming, hermit crab races, extended happy hour pricing and discounts for locals. There would also be discounts on parasailing. We ran this event for a couple of months. But it never really took off. Our resort is about 1.5 miles from the village of Hopkins, so its no easy feat getting here on a Friday afternoon. Also there were a couple of competing parties in the village on Friday nights. So we moved our "party" day to Saturday and are trying to make it more of a family event with corn hole and volleyball and the same discounts. We will see how it goes.
So far…
The brunch changes have been good. We get a lot of walk-ins from neighboring hotels or private homes that are rented out south of us. The longer hours have been good for walk-ins and guests who enjoy sleeping in. We've had some kinks to work out. Some of the menu items we added were not things our chefs were used to. We have plenty of Belizean items on the menu, but for example, Eggs Benedict is not a Belizean thing. Might be a good item to take off the menu as it tends to be a bit inconsistent. The Sea Bar has been a really good addition. I think families really love the pizza on the menu and the Sea Bar lends a really nice vibe to the whole day. There is upbeat music that plays mid day and people can get cocktails if they are just hanging on the beach.
We ran the parasailing business for about 6 months and have now shut it down! It was a very expensive business to run. Gas is very expensive in Belize and this boat took a LOT of gas. We weren't getting enough interested in parasailing to keep it going. I think at this point, visitors to Hopkins are here for the natural attractions — snorkeling, diving, hiking, caving, ruins — more than the something like parasailing. The jungle and the sea are what make Hopkins and Belize unique. Parasailing could be done anywhere! So, at least for now, it is not a viable business.
We also added a coffee shop to the lobby, but I'm going to leave that for another post.
High Season busy-ness
The High Season has been a whirlwind. As I've now starting saying….I'm working harder than I've ever worked in my life. I'm exhausted at the end of the day. But it is a GOOD work. I feel very satisfied. I love this work. I love meeting new people and helping their days here run smoothly. I love spending an hour helping out in the office and then an hour helping the kids get ready for school and then an hour on our restaurant POS and then shopping for dinner. It a big mix of home, work, and life.
The busy season definitely pushes the limits of our staff, our sourcing, our vehicles…everything. We are finding out where the holes are….like when two different people call for a massage therapist and we get two showing up instead of one. And when NO one calls to reserve a zip line tour and then the guest can't go on a planned tour. We are trying to put practices into place to improve communication between staff , but there is a ways to go. We've just started to put one person in charge of procurement (getting all our restaurant and hotel supplies) and we need to get our inventory into a software system instead of on paper. We need to be more efficient in scheduling our hotel vans' schedule. Sometimes we have airport pickups just an hour apart and we send two different vans to pickup those groups. I'm convinced guests would not mind waiting an hour for a shuttle, if we simply present it that way and take advantage of sharing the ride.
I've fallen into the role of "morning host" because I live on site and get up earlier than Ryan. And because I care very much about the morning going right. That means I have to check in with our tour manager to make sure the next day's schedules are all lined up for tours and airport transfers, early breakfasts and special diets. In the morning, I make sure guests are up on time, eating breakfast before their tours and know where they need to be. Some days its hard to get up early (birding goes out at 6am, so I'm up by 5:30) but its nice to have a chance to chat with the guests and answer questions about their tours or about why we moved down here. I get a lot of questions about that and it actually nice to reflect on where we are, each time I'm asked.