A Rough Start
The title of this post is referencing an old movie called "Planes, Trains and Automobiles" which is a comedy of errors about a man trying to get home for the holidays. While taking 2 day mini-escape from our resort over Easter break we needed quite a few vehicles to get us on our way.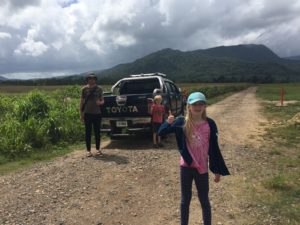 The kids got 2 weeks off from school for Easter break and despite it being a very busy couple of weeks for the resort, we really wanted to take some time away as a family. We were also invited to come stay the night at two separate jungle lodges (our partners for "jungle and sea" vacation packages). We do not have a personal vehicle so we took the resort truck, leaving the resort with just two vans for guest day trips and airport pickups. We started off the trip like any good road trip: windows down, music playing, and drove up the Hummingbird highway towards Belmopan. About 30 min shy of Belmopan we had our first vehicle mishap. A light flickered on the dashboard and Ryan felt like he lost power steering, then about 2 minutes later while discussing if the battery had become disconnected, the fan belt broke and the radiator blew. POP!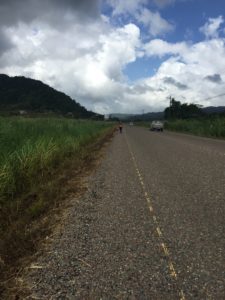 We pulled over onto a small country road/driveway and checked out the engine. As far as breakdowns go, this was a lucky one. We were really close to Belmopan, where the truck would need to be repaired and we were within walking distance to a bus stop. Ryan called the resort and asked our tour manager, Oz, to call the repair shop to get us towed. Oz told us that one of our vans was presently at the same repair shop in Belmopan, so when we arrived, we could take the van and continue on our way, leaving the broken truck behind. More amazing luck. However, now the resort would be down to one van. 🙁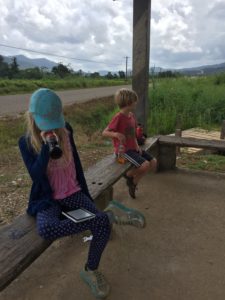 While chatting with Oz, a family from school stopped to help us on the side of the road. Their truck was pretty full, so we decided NOT to hop in the truck bed for a lift, but to wait for the bus instead. We walked about 15 minutes along the highway to the nearest bus stop. Which was also next to a little restaurant with Cokes and Fantas. Just the thing on a hot, highway walking day.
I've always been curious to ride the bus, and never had an opportunity, so I was happy to get the chance. The buses in Belize are run by a couple private companies and they all look like school buses. Usually they have a sign in the front window indicating the final destination, and then they stop at all the little village bus stops along the way.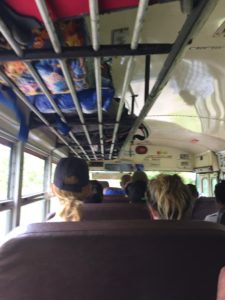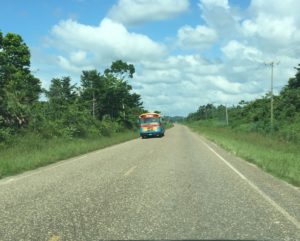 Surprisingly the bus was not very crowded, it being the week before Easter. I thought there would be many more tourists or local families traveling for the holiday. When we arrived in Belmopan, the bus made a special stop for us close to the mechanic (nice). And by the time we arrived at the repair shop, our truck was just arriving as well! We went across the street to a great restaurant, Scotchies. When we were finished eating lunch, the truck still needed a lot of work, but the van was ready to go. Even though we'd lost some time on our little vacation, we were in no rush, so everyone was still in good spirits. We ran a couple errands in Belmopan and then continued on to our destination: Duploy's.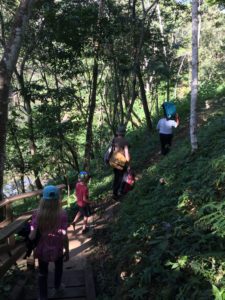 Trusty Google maps lead us right to the door of Duploy's. Except, er, the sign said "Mystic River Lodge". We were most definitely NOT at Duploy's. Hmmm, Ryan went inside to check out where we might have gone wrong and it turns out, Google had simply put us on the wrong side of the river. Oh No! If we wanted to drive to the other side of the river, we'd have to double back and drive for 2 hours. The manger at Mystic River Lodge suggested that we use a canoe to cross the river instead.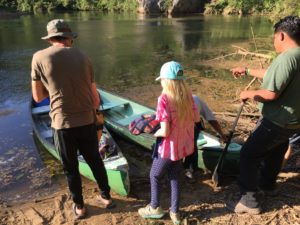 Duploy's sent across two of their staff to help us get out suitcases into the canoes and paddle across the river. We finally arrived and settled into our little cabin. Duploy's gives you the feeling you are situated right in the jungle. There are wooden walkways connecting all the cabins and the restaurant. The walkways give you the feeling you are floating above the ground and walking among the trees. The walkway next to the restaurant brings you even higher above the ground. Fay was a little afraid to walk out to the end, but she was persuaded and we were rewarded with hammocks and some really cute tiny grasshoppers.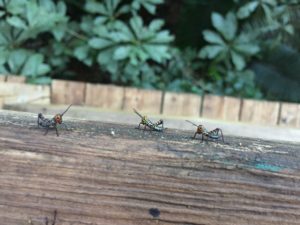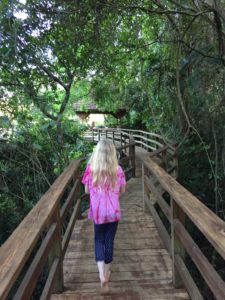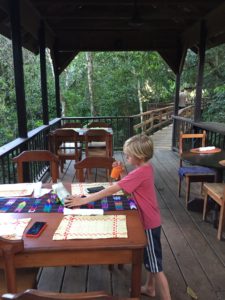 On to Lodge #2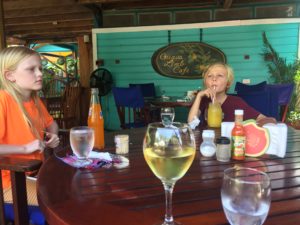 Our stay was short because we wanted to make a trip into San Ignacio in the morning (to see the Iguana Conservatory) before heading to our next lodge, Mariposa. But before leaving, we had a lovely breakfast with Judy Deploy. I asked her questions about her life in Belize and she told me about moving here many years ago with her husband and 5 daughters. Her daughters are now grown so it was very interesting to me to hear about a family who made a move similar to ours, but so long before us, and also into the Jungle rather than along the Sea.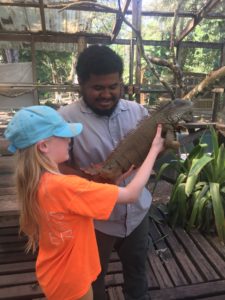 We took a canoe to get our van. Ugh, yes, remember our van was parked across the river. We drove about 1 hour to San Ignacio and stopped at a beautiful restaurant, Guava Limb, for lunch. This restaurant felt like you were eating in a garden in the middle of the city. It was open air and full of life, and plenty of patrons. They had a menu with so many good lunch options for the kids as well as us. After lunch we headed to the San Ignacio Resort Hotel where the Iguana Conservatory is housed. The kids really enjoyed learning about the iguanas, as well as feeding them and holding them. The iguanas at this conservatory are all being rehabilitated from a sickness or trauma and only the docile ones are allowed to interact with the guests.
By the time we finished our Iguana visit, it was late afternoon. So, we set off for Mariposa, down another long rocky dirt road. The road was not unlike the bouncy bad-road driving we have experienced in own village, but it was also full of hard rocks, so we drove very slowly. It took a long time and we felt very remote while searching for our destination. You definitely feel like you are getting away from it all!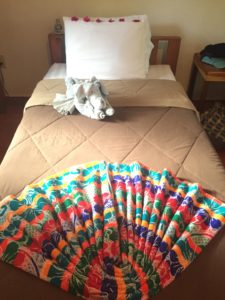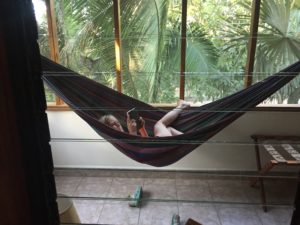 The rooms at Mariposa are beautiful, and there are only 6. The towel folding was most impressive — a couple elephants and swans. Our room also had a screened in porch room with a hammock. The caretaker at Mariposa has kids our kids' ages so we all went to the pool upon arrival. It was a fairly intimate setting where you can easily get to know the other guests staying there.
After their day trips, everyone congregated at the pool and dinner was at a set time, so all of the guests ate together. We were only there for one night but the staff made us feel like they knew us already, asking the kids to come behind the bar to help make smoothies, and taking pictures with us. During dinner we found a wolf spider wandering along the floor. A reminder that we are in the jungle with many more creatures. Living at the beach for these past months I have not encountered many snakes or spiders. But they are out there!
Last Stop: Actun Tunichil Muknal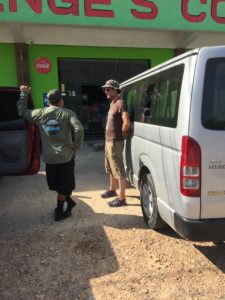 Part way through our get-away we realized we were very close to the ATM caving tour ( Actun Tunichil Muknal ) . Ryan and I had both wanted to do this tour for as long as we've known about it, but it is a full day commitment and we were unsure how the kids would handle it. Now that we were so close, we decided to do it! The ATM is a cave that was discovered relatively recently (found in 1989, opened to the public in 1998) and has skeleton remains from human sacrifices. It also has many artifacts like Maya pottery and many fantastic stories about the history of the cave. On our last morning, we left Mariposa and drove to meet our ATM guide at a grocery store near the site. A guide must be trained and certified specifically for the ATM tour. Several years ago a tourist accidentally dropped their cell phone/camera on a skull in the cave so all visitors have been banned from bringing anything into the caves; not even water bottles.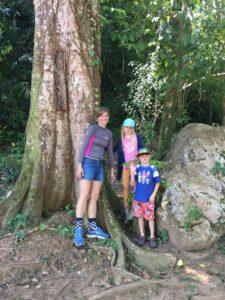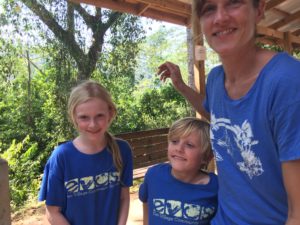 Our guide drove us to the site, at which point we left everything in the car and walked a half mile to the cave entrance. I have no pictures to show of our adventure past the parking lot….just my memories. We had to traverse 2 rivers during the hike, wading across, along a guide rope. At the cave entrance, we had to immediately swim across to the wall on the other side where there was a small ledge under water. We spent a lot of time partially underwater. I felt bad for Rex because he is the shortest in our group and when I was wet up to my waist, he was wet up to his chest! We were heading to a place they called the "Big Room" where we would see the artifacts and where many ceremonies were performed, years ago. The kids got very cold and tired while we were still en route to the Big Room, and they were clearly frustrated knowing they'd have to make the same trek back to get out. We walked for about 1 1/2 hours to get to the Big Room. The Big Room was a large area with many tourists and guides walking around viewing artifacts. There was broken pottery, bones, and my favorite: stalactites that were carved to look like human silhouettes.
Somewhere during our cave hike we also had to remove our footwear. I think it was the entrance to the Big Room. This was to lessen the impact our presence (and so many others' presence) would have on the cave and artifacts within the Big Room.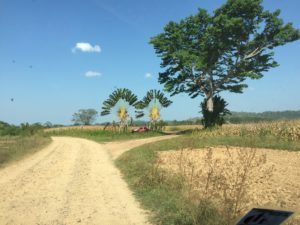 We made our return trip and the kids were delighted to see the sun. We ate a big meal of chicken rice and beans, provided by our guide and then said goodbye. Since we were driving south and he was going north, he told us the fastest route was to turn at the road with the two fan palms. I laughed to myself at what a Belizean instruction this was. When asking for directions you typically get something seemingly vague like "turn at the red house". But a tree, how are we going to identify the correct tree?! However, when I saw the crossroads, I very much knew we must turn! Perfect instructions.