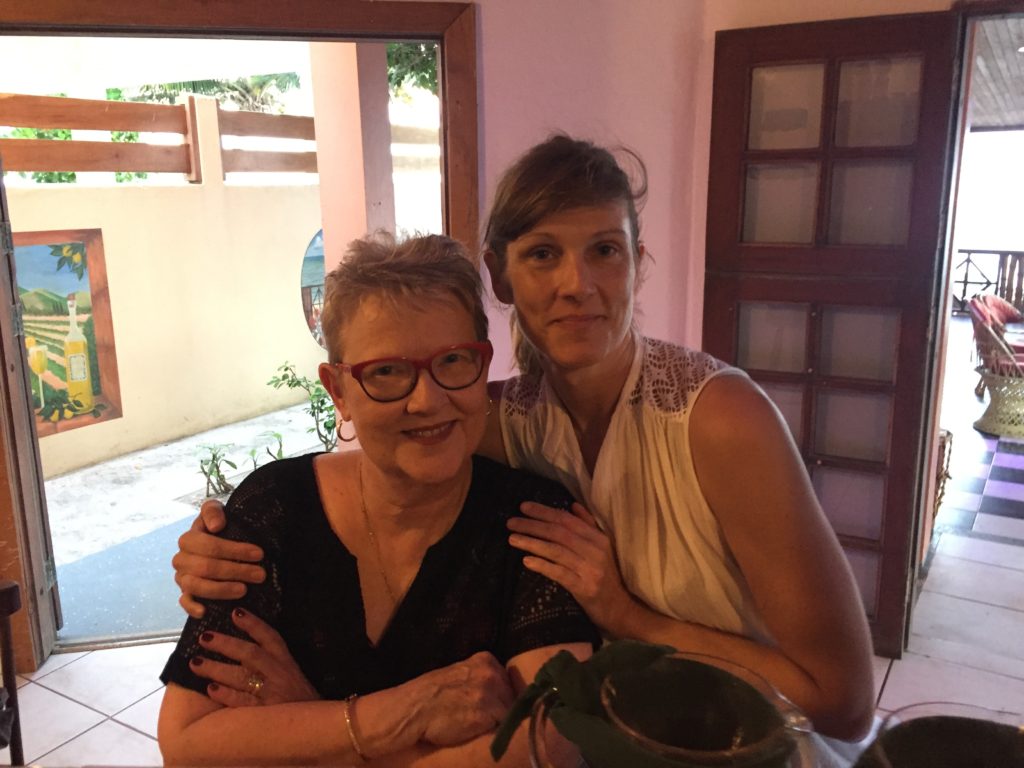 My mom made her second visit to Belize in January, just one month after our Christmas visit to the States. We had planned her Belize trip long before our Christmas trip so it was not intentional to see each other SO soon again, but certainly welcome! Its always nice to have my mom with me. Especially in Belize where I am much lacking in family.
We offer a lot of tours at the hotel and I try to go on all of them so I know of them first hand. I had been saving the Maya Immersion tour to do with my mom. We have both always been very crafty, so I was especially excited to take her to the basket weaving demonstration. And, of course, I took the kids along so they could be with Nana and learn about the Maya culture too.
We drove to Big Falls which is south of Hopkins by about 1.5 hours. It is in the Toledo district. Our first stop was to the house of a woman named Anita who created the Living Maya Experience tour. The tour was held in a thatched roof building that was right next to where her parents live. Her family was busy cooking and chatting just a couple feet away from us as we learned about Maya culture. She showed us the traditional clothing for two different Maya groups that live in Belize, the Kekchi and Mopan. She also showed us some items used in the home such as a baby play pen, instruments and cooking tools. I really enjoyed talking with Anita, she would answer any question we had and it felt like she had welcomed us into her home.
Her son took over the tour for a bit, showing us the musical instruments, while Anita got lunch started. She was making corn tortillas and started by grinding the corn which has already been boiled in water. Fay and Rex tried grinding the corn on the traditional stone.
After grinding the corn, Anita showed us how to make them into tortillas and cook them on a stone grill.
Next, to give Anita time to finish preparing lunch, Anita's son showed us around the grounds, pointing out herbs and fruit trees that grow on their property. By the time we circled back inside, lunch was ready!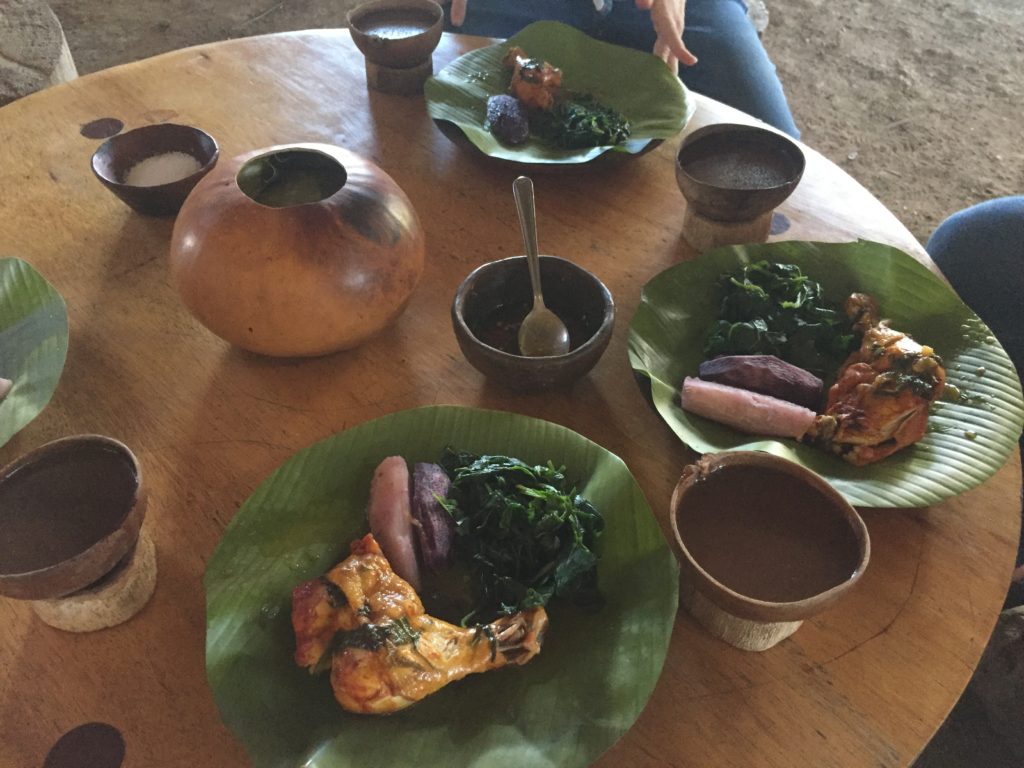 Lunch was delicious! Once we finished, we said our goodbyes and headed to the next tour — chocolate making!
After driving for about 20 minutes we arrived at the chocolate tour. The owner, Juan did the entire tour himself, from trees to chocolate. First he showed us a cacao tree and took a pod off the tree to show us. He brought the pod inside, cracked it open so we could see and taste the goopy raw beans. I think they taste really good raw. But the texture is strange. He gave us some hot chocolate first (hot water and bitter chocolate), he also let us sample the end result of chocolate making — a dozen different flavored little chocolate bites. I loved the cinnamon, ginger, cardamom…so many.
Similar to crushing the corn at Anita's house, we watch Jose grind the roasted cacao beans on a lava stone. And of course, we all got to try. The fast motion of the grinding combined with the heat from our hands turns to beans into a watery paste. It is hard to believe how quickly and expertly Juan turned the beans into a smooth paste.

After grinding the beans, Juan showed us around the factory. We saw a giant mixing machine used to knead the chocolate and the cooling room where the bricks of chocolate were being formed. We bought some chocolate to bring home and we were on our way to the next stop!
The third tour on the Maya Immersion day is a Maya woven crafts tour. This was the one I was really excited to share with my mom because we are both crafters. We were shown how to harvest the plant, cut it into thin strips and make the strands that are woven in to baskets. For a hammock, we got to see a second type of plant scraped of all its moister and twisted back and forth to make rope. It was time consuming and took skill. I tried to roll the plant into rope and it was not the tightest result. The family was so fun to hang around with for our hour and they had beautiful baskets, rummers and other woven items. Fay and Rex loved that the yard as filled with chickens and dogs….almost more than they liked the weaving part.
Thats it! A long day as we had to drive 1.5 hours back to Hopkins. We didn't get back until after 6pm. But is was a lot of fun and we met so many people. It was my first time in the Toledo District and I really fell in love with it. Its got a more rural vibe than Hopkins. I will definitely find a reason to visit again.