This past summer was all about local tourism for many of us living in Belize. While the resort and country were closed, we took a family vacation to northern Belize. We stayed at a fun hotel called Belize Boutique Hotel and Spa, and visited two Maya ruins, Lamanai and Altun Ha, for the first time.
Our trip was in July 2020 when the borders were closed, but we had no active cases in Belize. The government was promoting local tourism as a way to keep hotels and restaurants open which normally rely on international tourists.
We met up with another family to spend the weekend exploring the area just north of Belize City. It was such a treat to get away from the empty resort and we had two birthdays to celebrate that weekend as well.
Bacab Eco Park (water slide pit stop!)
On Friday, we drove from Hopkins to the Belize City area in 3 hours time. Before going to the hotel, we agreed to meet our friends at a little water park just north of Belize City. The park is called Bacab Eco Park and it is touted as a day trip to tourists visiting Belize City. It boasts mini-tours of all the things you can do in Belize like zip lining, horseback riding, jungle walks. But we were excited to swim in the large kid friendly, recreational pool and check out the water slide.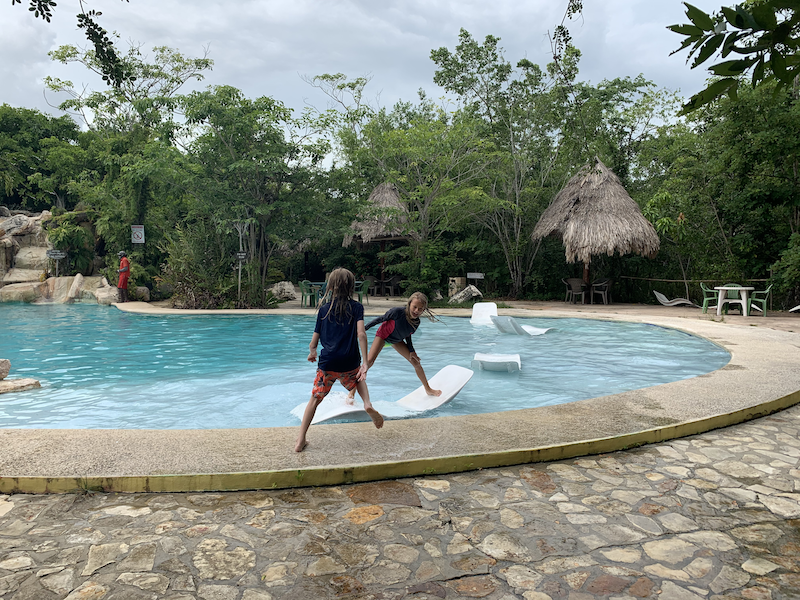 Cute, Funky Resort and Spa
After swimming and lunch we continued to our hotel, The Belize Boutique Resort Resort and Spa. This is a cute, funky, unique hotel. It is family owned, and the service was top notch. I was told that the hotel was originally marketed as a romantic getaway, but in reality its great for families too. Our room had two bedrooms with a connecting entry way. The resort property has a handful of cute nooks where you can play chess, sit in a thermal pool, or just relax with Wifi and a book. Our friends chose the best family room. They had two large sleeping areas and a beautiful pool right in front of their room. There are two pools at the resort. The main pool is closer to the restaurant, so the one in front of my friend's room served as a private swimming area for them, during our weekend. The hotel also had a racquetball court, which was a fun surprise. You don't see a lot of racquetball in Belize.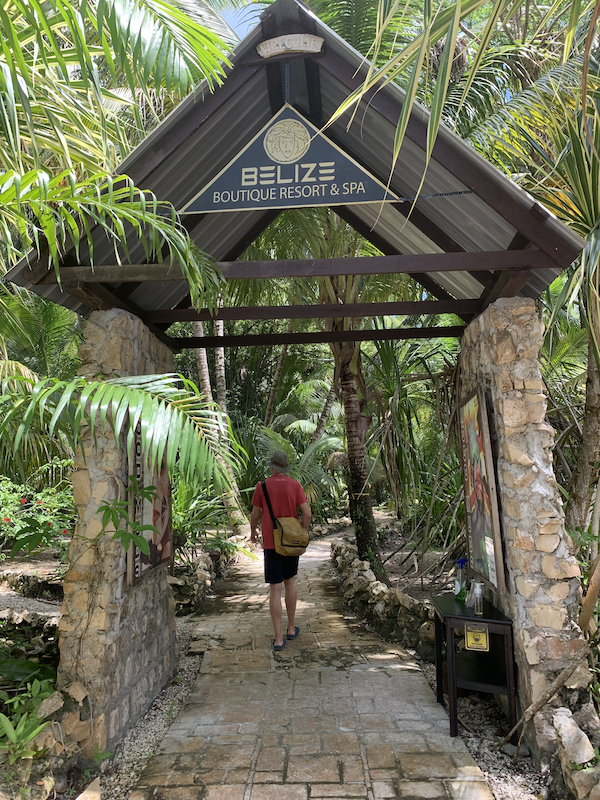 Saturday trip to the local gas distributor
We planned to see two famous Maya ruins sites over the weekend, starting with Altun Ha on Saturday. Altun Ha was within an hour of our hotel, so we had a leisurely morning before setting off. Ryan and I were in desperate need of gas for the car. We had been running low on Friday as passed a gas station near Belize City, but we thought there would be another opportunity to get gas near the hotel. Wrong. We broke one of the most important rules in Belize. If you see something you need, buy it. Don't wait, because you might not see it again. Normally this applies to things like Peaches! or your favorite American imported cereal. But on this day, it applied to gas. Before setting off for Altun Ha, we had to find a local distributor of gas — which we did, at the village grocery store. They had 5 gallons they could sell us.
And…Saturday trip to Altun Ha
When we arrived at Altun Ha, it was 11:30am. We saw two empty restaurants by the site and asked if they would be serving lunch later. No, they were closed due to the borders being closed and thus no tourism. Sad. But at least Altun Ha was open. Altun Ha has a nice park at the entrance where you can use the bathrooms, pay your entrance fee or just rest on benches. After passing through the entrance we encountered lots of green space, a handful of un-excavated mounds (fun to climb) and a steep temple called the Temple of the Masonry Altars. Apparently, a rendition of this temple is used on Belize's Belikin Beer logo. It was a beautiful sunny day and we had a relaxed visit. The kids had fun with my camera, taking photos of clouds. And they let me take a few posed photos of them with no funny faces. Birthday treat!
Saturday Lunch and Mud Massage
After Altun Ha, we returned to the resort for lunch and massage. It was my birthday so Ryan and I had a private lunch and couples massage while our friend's watched the kids. The hotel we were staying at has unique, signature Mud Massages. After a relaxing massage, they cover your almost naked body in mud, flowers and leaves. They do provide a cloth underwear to use so you don't have to get your own underwear muddy. And by the time you are done, you cannot see an inch of skin through the beautiful mud painting and floral decorations covering your body. At the end, they offer to take pictures of you and then lead you to an outdoor sun soaked couples bath to rinse off. It was really fun and felt romantic.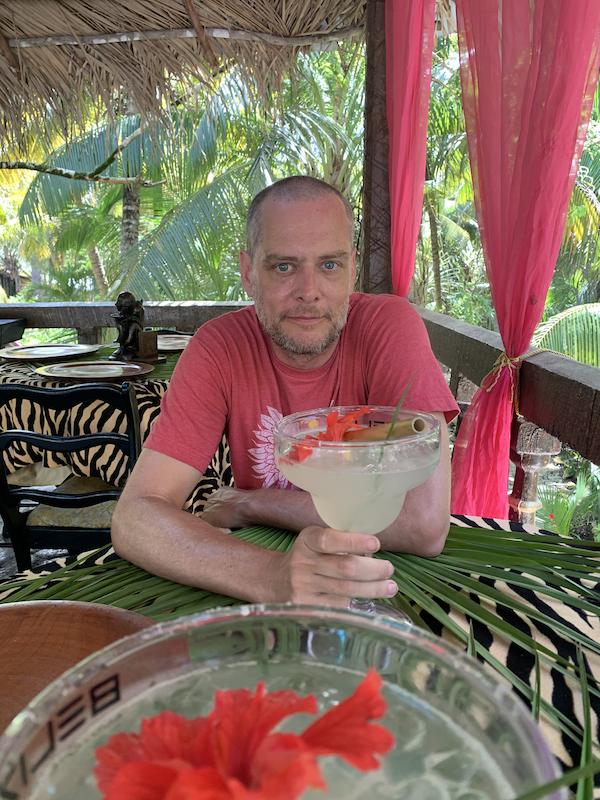 Saturday Birthday Dinner
I was celebrating my bithday on Saturday and our friends were celebrating a birthday on the following Monday. So we had a double birthday celebration for dinner on Saturday at the hotel restaurant.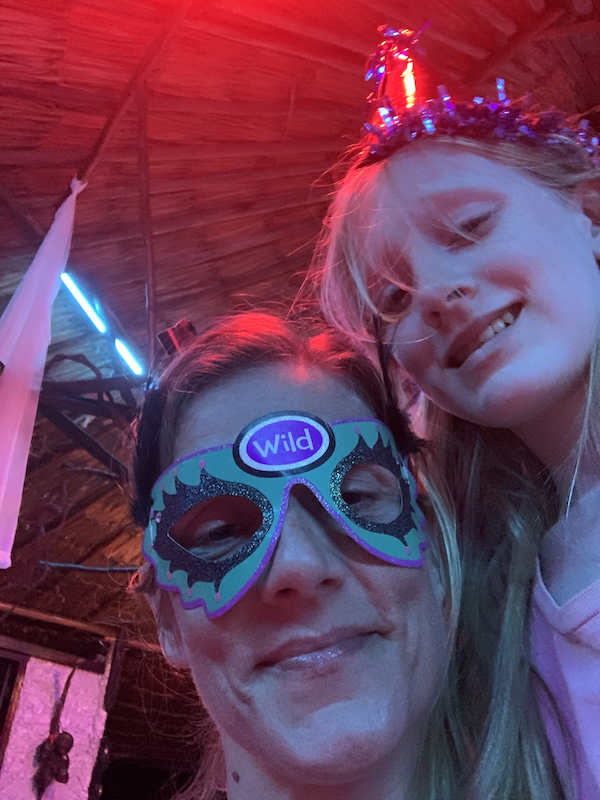 Sunday Lamanai visit and boat ride
On Sunday we booked a tour to see the ruins of Lamanai. I belize Lamanai is accessible by land, but arriving by boat is really the way to go. I cannot say enough good things about visiting Lamanai. It is a beautiful site with a spectacular location on the New River. Lamanai is my new favorite Maya ruin site in Belize.
We drove an hour from our hotel to Orange Walk town to meet the tour guide at the Shell gas station. After following him to where his boat was docked, we took a beautiful boat ride down the New River. We passed the Sugar Factory and a Mennonite community. The river has lots of bends, and turns. After an hour boat ride, when you are almost to the site, the river opens up into a large clearing. You can imagine why a Maya community would choose this spot to build a large city.
Lamanai reminded me of a Maya Ruin I saw in Mexico. It has a tall temple with stairs that go straight up. It also has many foot paths that wind you through the site, passing the buildings and playing fields. We saw howler monkeys and spider monkeys. It was such a fulfilling day of history, animals and nature.
Heading Home
After our Lamanai visit, our weekend trip was done. We took the boat ride back to where we left our car and then drove home. I'm thankful we live in the beautiful country of Belize during these Covid-19 lockdown times. There are plenty more caves, waterfalls and ruins to visit. Though, I suspect not many can surpass the beauty and awe we experienced this weekend!
Come visit us in Belize!
We own Beaches and Dreams in Hopkins Belize. Our family moved here in August of 2017. All of our rooms are on the beach and we have a full service, amazing restaurant. Once we are all able to travel again, come stay with us. We miss our guests!