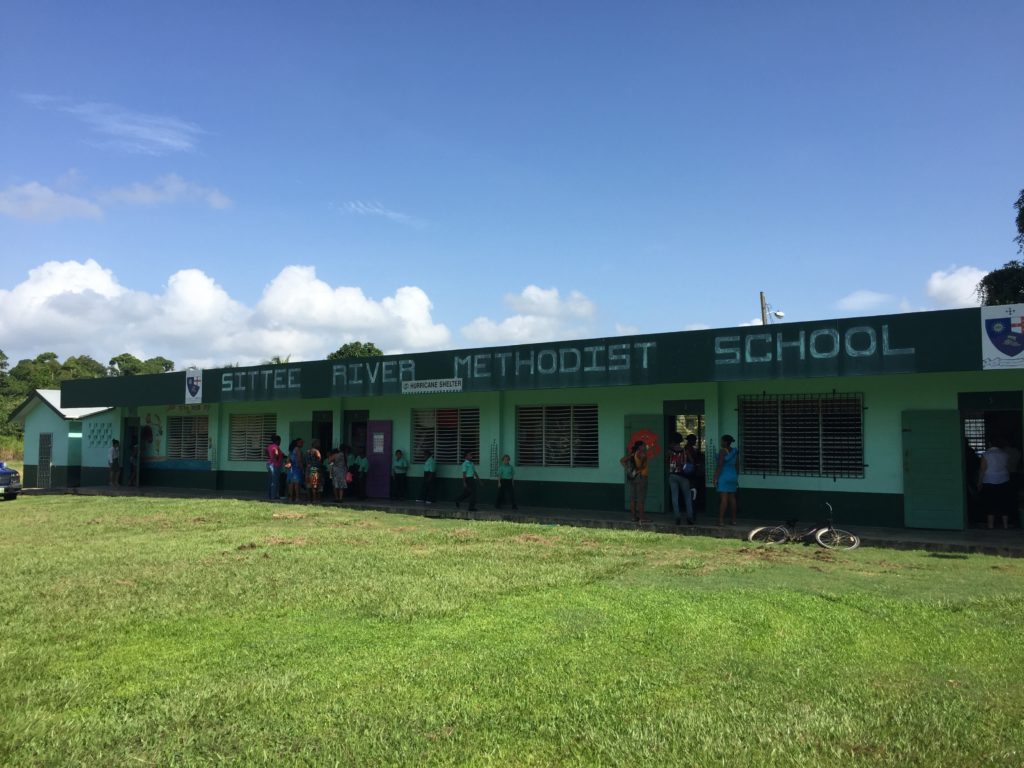 We arrived in Belize about 4 weeks before the school year began. Ryan and I both wanted the kids to be here for a nice length of time before school began, so they could get comfortable just being in a new country and at the resort. As the days counted down and we got closer to school starting, there were knots in my stomach. Ever since we made the decision to move to Belize I have felt somewhat guilty for making the kids move away from their friends and from a school that they loved. I am anxious for the kids to meet friends and I want them to feel happy to be going to school each morning ( besides the normal desire to stay at home and be lazy all day ) .
I keep reminding myself that learning a new culture and adapting to an unknown situation is going to build tremendous character and social skills for Fay and Rex, not to mention tolerance, curiosity and a a wider understanding of our world. But, my heart aches when I see fear in their faces and when I hear them missing their old home.
We found out within the first two weeks of being here that we would like to send the kids to the small Methodist school in Sittee River. Most of the schools around us are run by churches — either the Roman Catholic or Methodist. It is about a 15 minute drive to school down a bumpy road. Most of the students at Sittee River live right in town.  It is in a small town of 300 folks and is hard to get from other villages unless you have a car. This keeps the enrollment small. I've learned the small enrollment is good and bad. Its good because its easy to get to know the teachers and all the students. Its also easier for the teachers to keep bad behavior under control and limit any bullying. Its bad because the Ministry of Education only pays for x number of teachers per total student body. So Sittee River only had 4 teachers in Elementary school (equivalent to K-7) and one teacher for pre-school. Each teacher teaches two grades in the same classroom. I know some schools in NYC choose to have shared age classrooms, so this is not by definition a bad arrangement. But I sense that the teachers in our school are stretched a bit thin on some days and fear loosing student enrollment.
Registration
I visited the school a week before school started to meet the principal and to register. The wife of a man that works at our resort offered to bring me to the school. Their kids attend Sittee River as well and they've been super helpful in giving me information about how to enroll. Registration is $50 BZD per child. The principal was very welcoming and it seemed like a caring set of teachers. I got a list of all the materials and books to buy for school. We have to buy the science, reading and writing workbooks for each kid along with notebooks and other supplies.
Rex was placed in Standard 1 and Fay was placed in Standard 3 — mostly by their ages. Enfant 1 starts at 5 years old (like Kindergarten), then Enfant 2, then Standard 1 (like 2nd grade).  I think Rex is in the exact right level. Fay might have been placed down a level in Standard 3 (seems to line up with 4th grade) because she does not turn 10 until October.  But I am ok with her having this extra year just to get used to her new environment. If they are not challenged, the principal said they can move up at the teacher's discretion.
Shopping for school
Fay, Rex and I took a day trip to Belmopan to shop for school supplies and uniforms. I was excited to see the big city (capital!) for the first time. But is was a long drive — 2.5 hours. And I got lost a lot. It was also fairly chaotic at the uniform store. It was the weekend before school so EVERYONE was shopping and the store did not have AC. When we went for books, they were out of two that we needed, so we had to find a 2nd book store to get the remaining books.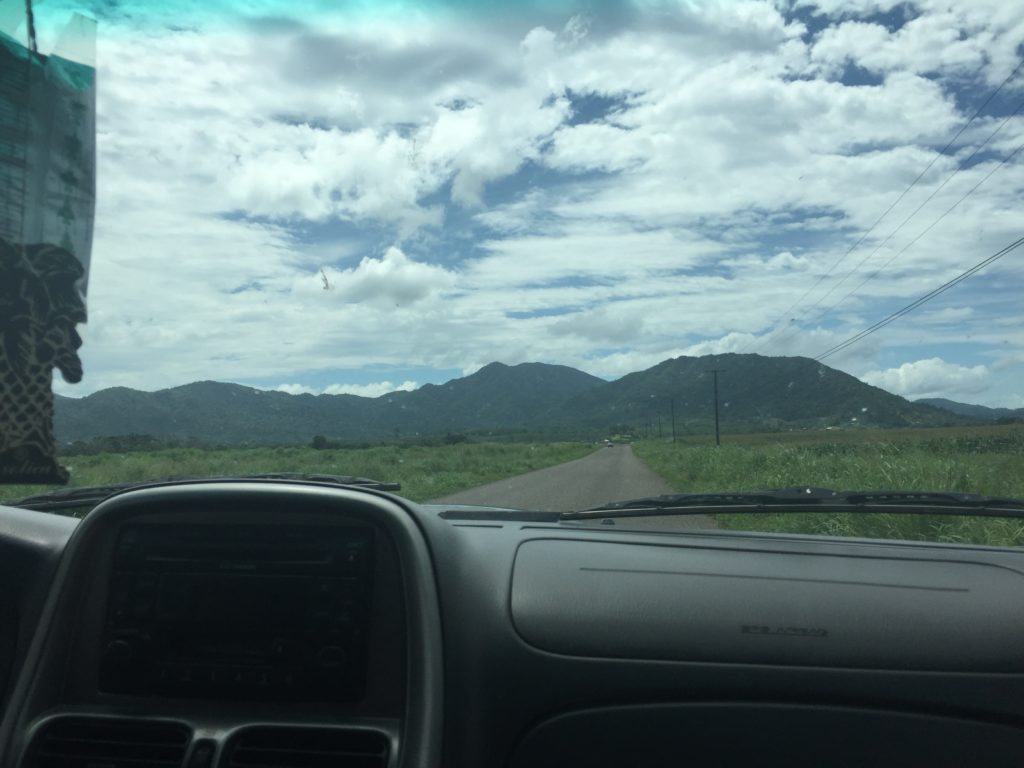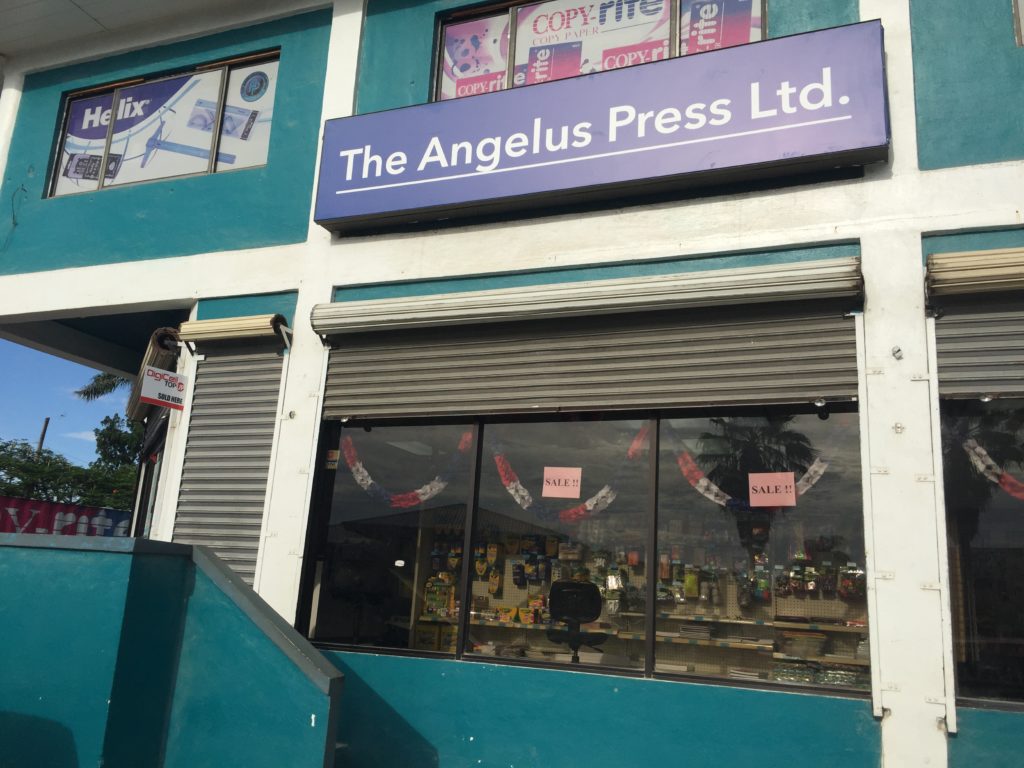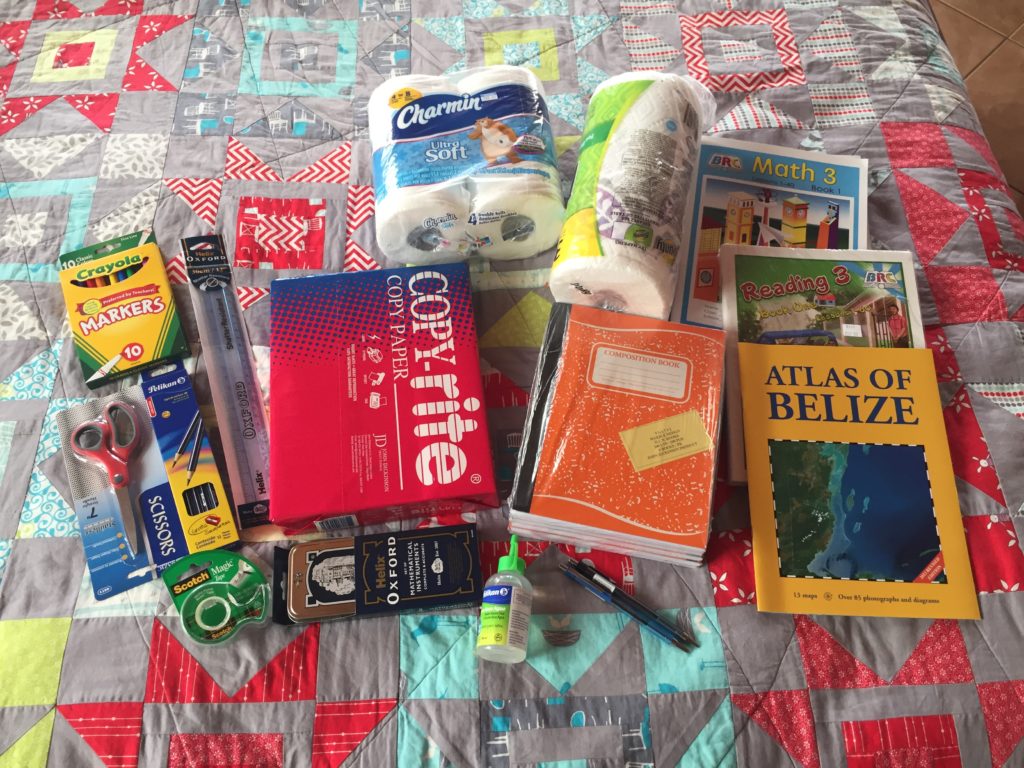 We also hit the grocery store, Brody's, because being in the big city we hoped for some exciting snacks that our small town might not get. The big finds were band-aides, Ritz and Lucky Charms.
Lots of running around, a little bit of ice cream and finally some pizza.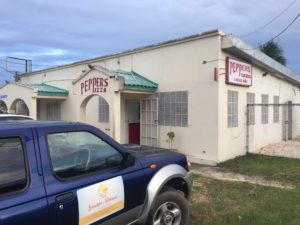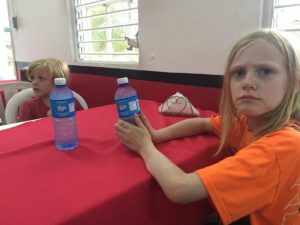 When we finished eating pizza it was 6:30 and already pitch dark out (no daylight savings time makes for early sunrises and early sunsets). It dawned on me that I had a 2.5 hour drive back on a poorly lit, narrow road and I got a bit nervous. Once I got driving I realized it was Friday night and tons of people were walking along the side of the road going out for the evening. Then I was terrified! I white knuckled the steering wheel all the way home. Between trying to stay on the road and not hit the people walking, I just about lost it.
During the week before school I introduced Fay and Rex to two families with kids at their new school. One family had two boys at the school aged 7 and 10, the other has two girls at the school aged 10 and 13. I was super happy the kids would have some friendly faces on their first day.
First Day!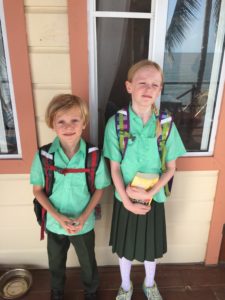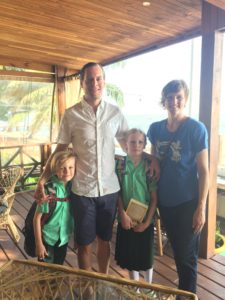 On that Monday  I drove the kids to school for an 8:30 arrival. Fay seemed pretty terrified. Rex was scared too. I brought Fay to her class and her teacher helped her find her chair. As they started class the first thing they did was rise and do a short prayer (morning devotion). I looked at Fay's face and saw her eyes closed shut and a terrified frown on her face. It was such a hard thing for me to see.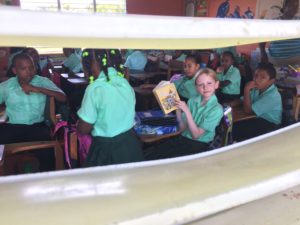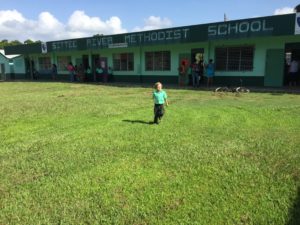 Rex's teacher started in with quite a booming voice. I had met her at registration and instantly liked her. But I was afraid my gauge was off and he had gotten a stern teacher. Luckily, when I picked him up I also witnessed her taking pictures with the kids and herself with a giant homemade frame around their faces. The frame said something like "welcome to 2017-1018 school year". I think stern yes, but also tries to give the kids moments of fun.
I have to describe lunch. Because the kids go to a school in a small town, most of the kids go home for lunch. So the lunch period is super long — 1.5 hours! For those kids that live far away (us, and some of the kids I introduced them to) they stay at school and either eat lunch from home or buy lunch at a nearby house that sells lunch. A woman who lives across the street from the school sells burritos and tamales and chicken/rice to the kids and they can eat on couches in her living room. After eating the kids might run around and play tag. Fay and Rex have been bringing their lunch most days and have gotten used to the lunch routine pretty well. They also tell me there is a little store near school that sells chocolate cookies and chips and other sweets they can buy during snack and lunch. So some days I'll slip them a dollar or two for a snack.
The kids wear uniforms to school. On Fridays, kids have the option to wear regular clothes for a fee. Its called fee day. They pay $.50 to the school for the privilege to not wear their uniform. This is one way the school raises money.
The kids have to lug their books to and from school each day. They have workbooks (like composition books) for each subject. Each classroom has a schedule for each day of the week, so the kids know which workbooks to bring to school each day (so they don't have to lug ALL of them EVERY day). Of course, one day, Rex forgot one of his workbooks and got scolded for it. Now he wants to carry all 10 of his workbooks every day, JUST IN CASE.
Here is the schedule for Standard 1 & 2.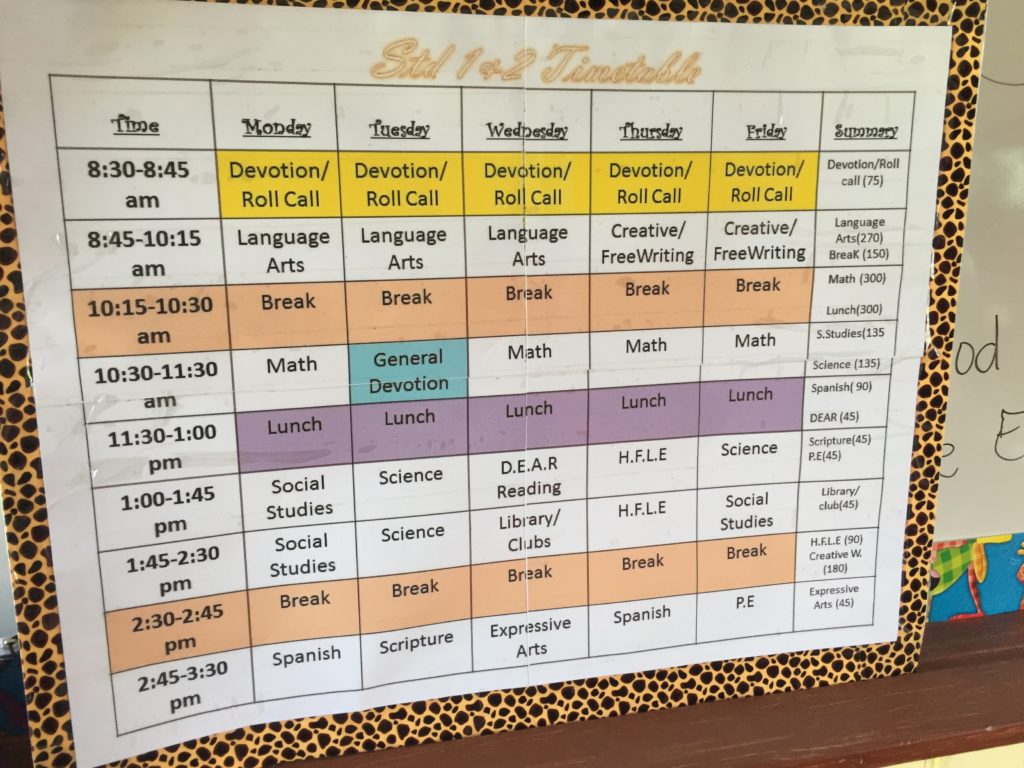 And the schedule for Standard 3 & 4
At the end of the first week I asked the kids to draw a picture of the best moment from their 1st week of school and the worst moment. Here they are.
Fay's best part was swinging on the playground during break or lunch. Fay's worst moment was the very beginning of the first day when she didn't know the prayer and was scared stiff.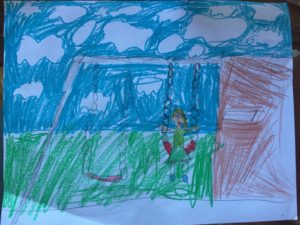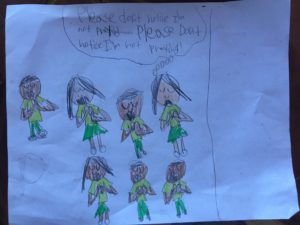 Rex's best moment was also swinging! Rex's worst moment was when he forgot his workbook and got scolded.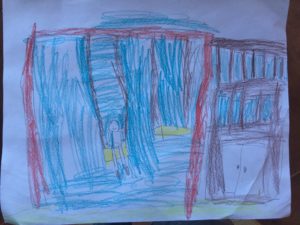 My take on the first week is that both Fay and Rex have good teachers that are trying to get to know them and their learning level. The teachers care, which is the most important thing. The kids seems nice, but its always hard to make friends as the new kid. Fay and Rex are not only the new kids but different from the other kids. I saw one kids walk by and casually stroke Fay's hair on her second day. There are some kids that have made unkind remarks, I'm guessing to seem cool. One remark was about Fay's skin color. Another was just trying to point out that she hadn't worn the right colors for patriotic day. Luckily, the two girls we met before school have been telling the unkind kids to shut up. So Fay and Rex so have some help, because I don't know if they are used to sticking up for themselves.
The school work is easy in some places (reading, math) and hard in others (lots of rigor — copying down assignment from the board, Rex is supposed to learn cursive, all paper must have a proper header with name, school, date etc ) They will do fine academically this year and if the core subjects are easy, they will have a lot to learn just to catch up in Social Studies (learning about Central America and the Caribbean rather than NYC) cursive, and Spanish. Not to mention learning how to adapt to this culture.
I'm certainly happy with our choice of school and I'm getting to know the faculty and students a bit. I'm still super anxious about the kids making friends, and that will probably carry on for several months. I will do what I can to help them out in that area, but so much of friend building just takes time and shared experiences. So I'll have to sit and wait with my anxiety to keep me company.