After the Mayan Ruins, we drove back in the direction of Hopkins for an hour and stopped for lunch. We were just a five minute drive from our next tour — cave tubing. After getting extremely hot and sweaty at the sun drenched Mayan Ruins, it was a nice relief to be in a cool cave with cold water.
We started by getting fitted for helmets with headlamps, life jackets and a water tube. We each carried our tubes to the entrance of the cave, about a 10 minute walk. Along the walk we saw so many beautiful butterflies. A favorite was the owl butterfly that looks like the eye of an owl when it is still.
The entrance of the cave was beautiful, so dark inside and so much vegetation lining the entrance. We saw stalagmites and stalactites at the entrance. And I learned or re-learned that you cannot have one without the other. They line up on top of one another, the ceiling stalactite dripping onto the floor to form the stalagmite.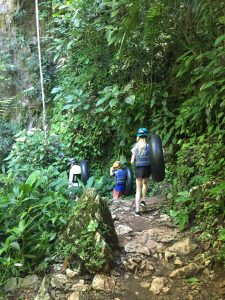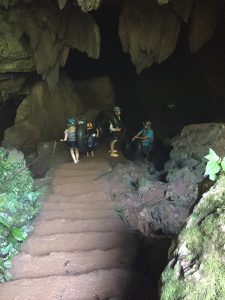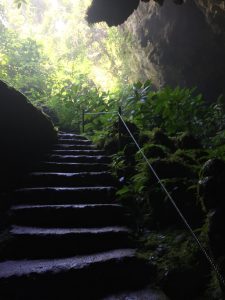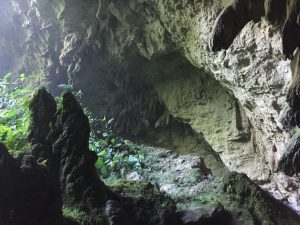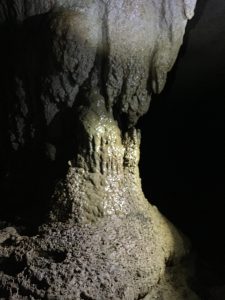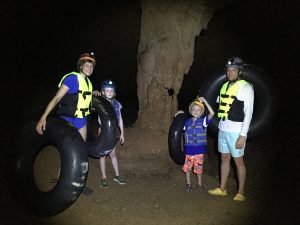 The guide helped us hook our legs together so all the tubes were connected in a line. The water was generally shallow so he towed us with a rope much of the time. Other times we stood up and carried our tubes when the water was too shallow to float. The cave was pitch black, we could not see a thing without the headlamps. At one point we all turned off our headlamps to see how it would feel. Rex immediately wanted to turn the lights back on. It was a little scary for him.
We saw different limestone formations with perfect names like a banana formation or jellyfish. We also saw a small patch of plant growth that was only possible because of bat droppings in that spot. A highlight for me was once area of the cave where there seemed to be hundreds of bats on the ceiling, hanging and flying around.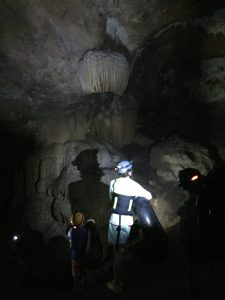 After a while, Rex and Fay got tired of the long float and Rex started to get very cold from the water. He had it the worst as the shortest person. Sometimes we had to wade through waist deep water which was chest deep on Rex! So near there the end there was a lot of "how much longer" and very much excitement when we saw daylight.
When we left there was one more stop before heading home. An interior "Blue Hole" was just a 5 minute drive from the cave. The real Blue Hole is up in northern Belize — more than 2 hours by car. But here we had a small natural swimming hole in the middle of the trees. At one part it seemed to be more than 15 feet deep. But as you went deeper, the rocks narrow to almost a tunnel so that its just barely fits a person. Ryan swam down and said he started to feel like he wouldn't be able to turn around if he went much deeper.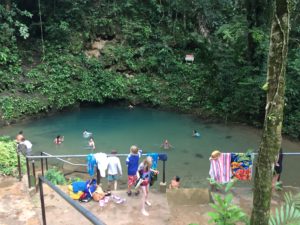 After an exhausting and fun day we were excited to head home to Beaches and Dreams. We had a special night ahead of us because we were able to move into our new apartment early! The current managers of Beaches and Dreams offered to move into our temporary housing (and apt two doors down) so we could move into the apartment above the restaurant. Originally, we were to wait a full month to move in. So going home after tubing was really going home!